Bucket Printing machine manufactured by Goldstar Dry Offset is well equipped with features like Auto loading, 360 degree printing, lower ink consumption,positive timing throughout machine. This bucket printing machine includes flame treatment with auto ignition feature and also occupies less space. The other optional features which can be opted with in the bucket printing machine manufactured by us are UV Drying post lacquering and magnetic plate cylinder. The best part in this bucket printing machine is that it also includes an auto ejection feature using an exit conveyor. This bucket printer can printing about 800 impression per hour with a suitablity to print from 1 litre bucket to 20 litres of bucket.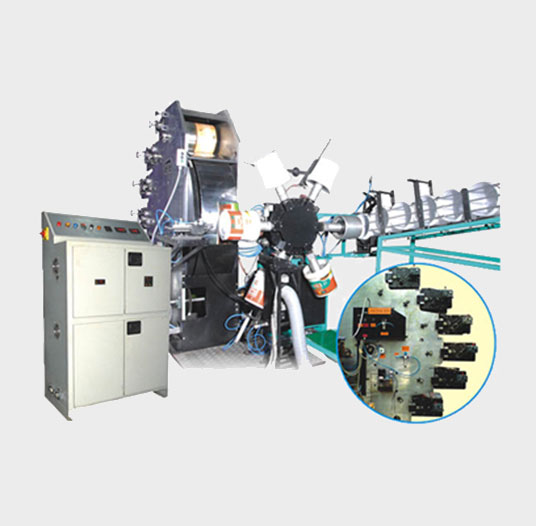 Auto Loading.
Flame treatment with auto ignition.
360 degree printing with precise registration & automatic orientation.
Instantaneous UV drying.
Auto ejection with exit conveyor.
Lower ink consumption.
Less floor space.
Suitable for conical & cylindrical container. (Wide Mouth)
AC motor with variable AC frequency inverter for variablespeed, accelaration and deceleration control.
Anti - Backlash plate cylinder helical gear.
Micrometer lateral and radial plate cylinder adjustment.
Complete vacuum system with pump that holds container on mandrels at neccessary position.
Positive timing through out machine.
Centralized Lubricantion System.
Optional
Magnetic Plate cylinder.
Post Lacquering with UV Dryer.
| Unit | Value |
| --- | --- |
| Min. Dia. & Height | 110mm x 120mm |
| Max. Dia. & Height | 300mm x 400mm |
| Max Print Area | 900mm (L) x 275mm (H) |
| Electric Motor Drive | Ac Gear motor 5HP, 3 Phase, 50Hzs. with inverter for fine speed control |
| Pneumatic Pressure | @6-8 kg/cm2 |
| Air Consumption | @12m3/hr |
| Total Power Consumption | 12 kilowatts |
| Max. Impression | @ 800/hr (20 Ltr Bucket) |
| Total Machine Weight | 5400 kgs |
| Machine Dimension | 5500mm(L) x 3000mm(W) x 2300mm(H) (Including Loading & Unloading Conveyor) |